In a recently published study based on a collaboration between Nordic Bioscience, Memorial Sloan Kettering Cancer Center, Weill Cornell Medicine, and Nancy E. and Peter C. Meinig School of Biomedical Engineering, we have examined the effect of copper depletion therapy on the collagen microenvironment in breast cancer patients with a high risk of relapse.
Tetrathiomolybdate (TM) is a novel, copper-depleting compound associated with promising survival in a phase II study of patients with high-risk and triple-negative breast cancer. In the study, levels of all collagen biomarkers were higher in those with the disease, metastatic and adjuvant, as compared with healthy controls.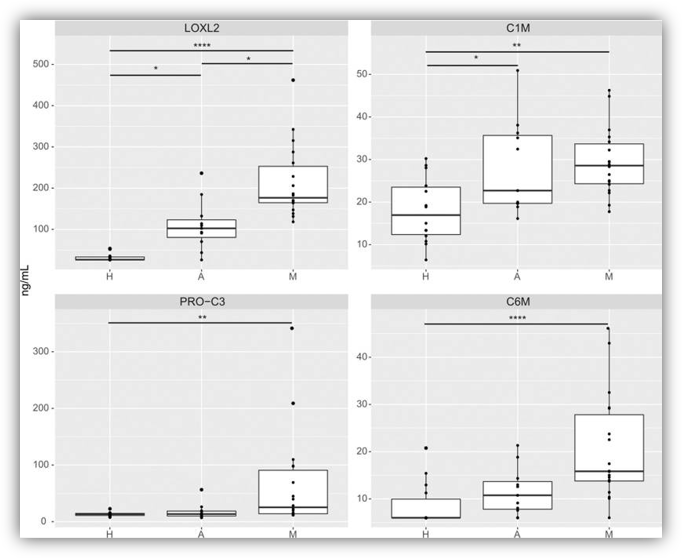 Baseline biomarkers of collagen crosslinking (LOXL2), collagen formation (PRO-C3), and collagen degradation (C1M and C6M) in the exploratory cohort
We propose a novel mechanism for preventing metastases through altered collagen processing in the tumor microenvironment. We hypothesize that decreased collagen cross-linking and increased degradation caused by the treatment may alter the immune response in the pre-metastatic sites and thereby decrease the metastatic potential.
The effect of copper depletion therapy on collagen turnover in breast cancer patients
Preclinical studies revealed decreased collagen deposition, lower levels of myeloid-derived suppressor cells, and higher CD4+ T-cell infiltration in TM-treated mice compared with controls.
In conclusion, the study showed novel mechanisms of TM targeting the TME and immune response with potential applications across cancer types.